While I have loved video games since I first put my hands on a controller, I sort of classify myself as a casual gamer.  When this post is published, it'll be a week since reached the ripe age of 25. Mmm… Mid-life crisis.  I went to school to be a gaming journalist, and I'm still not being paid to do what I want to do.
Just kidding…
… Seriously though.
This current console generation began in the middle of my life in high school, and it didn't even begin to show glimpses of ending until I graduated in college and started working my first salary-based job.
But despite the fact that I don't play games nearly as much as I used to in my youth, I've gotta say that this is probably the best year I've ever experienced in gaming.  In most years, aside from the reviews I assign myself to do, I'd be quite fine playing Madden, NBA 2K, or a random indie platformer, but that's about it.
This year, I found myself enjoying a lot more than just sports games, and I can make a case for any game in my list to be #1.
Without further ado, this is my list of the best 10 games of 2013.  For the convenience of our readers, to prove how good these, I've taken the liberty of linking the games with their reviews.
I've also written more than just your average conclusion, so for those of you still reading, you're in for a lot, but know that I poured just about all my heart and soul to these words.
Mario & Luigi: Dream Team barely edged out games like Fire Emblem: Awakening and Tomb Raider just because of all the charm the game has while having the most active turn-based battle system I've ever experienced.  Running away from a boss with varying camera angles?  Turning the 3DS sideways to fight Transformers/Power Rangers style?  Too fun.  Throw in all the hilarity that ensues with Luigi being as awesome as he is, and you have one heck of an entertaining game.
9. Rayman Legends – PlayStation 3, Xbox 360, Wii U, PC, PS Vita
Rayman Legends unfortunately was met with all sorts of delays, including a rather unnecessary one at the beginning of the year when the game had already been completed on the Wii U.  It was so annoying.  As an early adopter of the Wii U, I was quite excited especially after partaking in the "Wii U Experience Tour" and being totally blown away by Rayman.  Was the wait worth it? Yes, and the people who ignored it made a terrible decision because this is probably the most involved 2D platformer I've ever played.  With brain-teasing, timed levels to rhythm-based music levels, Rayman Legends has a lot to love, and it's pretty much on every platform available.
It's been years since the last Pikmin, but I feel like  it needed to wait this long because the game looks fantastic in HD.  Pikmin 3 brought back the franchise in a big way. An incredibly well-put together environment and nuances in gameplay made Pikmin 3 feel as original as it's always been, while the new Challenge Modes add value and a self-competitive element to the stylish action the game features.  The fact that you could use three characters almost rivaled even Grand Theft Auto V in scope.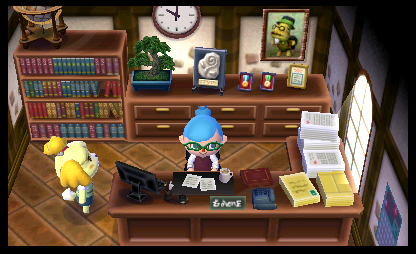 I haven't given this much thought, time, and care to my Animal Crossing village since the original one came out on the GameCube over 10 years ago. During that time, I was in the eighth grade, finishing up middle school. So to think that the game has retained its charm and improved so much for me to be playing a handheld version at age 25 says something. Talk to anybody who actively played New Leaf this year, and they surely won't forget to include the game in this year's Top 10.  The game has virtually gone a decade with new installments that never really changed anything, so New Leaf was definitely an appropriate title.
Haters be like… "Why so low?!"
Let me be one to say that GTAV definitely lived up to the hype, and while it's expected and will definitely receive all sorts of accolades from my peers as well as others in different publications — this year was just too strong. But of course, since it's on this list, the game obviously speaks for itself.. The ability to switch around with three different characters without affecting the story really gave this game some charm, but it's still not as charming as sitting in the strip club or doing whatever the heck it is you want to do.  On a more serious note, the amount of flexibility you have in the game's heist system really keeps things interesting.
The PlayStation 3 has really lacked the RPG experiences that the PlayStation 2 had so many of. Luckily with the help of the animation masters at Studio Ghibli, Level-5 really gave RPG fans a huge helping of what the console really lacked. And while it had some intricacies other JRPG's have had over the ears, it wasn't your typical story and typical battle system–something I'm definitely thankful for.  It's been a while since I've sat down and beat an RPG in like three to four days.  That's how engrossed I was in with this magical world.
Also worth noting that the game is a "Greatest Hit," so if you haven't already, I strongly insist on picking this game up.
A Link Between Worlds takes our favorite hooded hero back to its top-down roots and makes the game as non-linear as it can possibly be, and the result is one of the best Zelda games in years–which isn't surprising, since it's sort of a follow-up to what many consider to be the best Zelda game of all-time.
A Link Between Worlds is so good, it pretty much uncovers the reasons why a few of the most recent Zelda games aren't as good.  That's saying a lot about this esteemed franchise, so you can bet that a lot of the old-school gamers found this to be quite a sigh of relief.
Anybody can say what they want about the flat gameplay and insane stories that David Cage creates, but the fact of the matter is players will be hard-pressed to find a game that tells its story as well as Beyond does. With an extremely talented, Academy Award-nominated voice cast and visuals that really push the PlayStation 3 to its limits, Beyond: Two Souls finds its way to my 'Best of' list without the help of any invisible entities.  Like Heavy Rain before it, I was captivated as soon as I turned it on, showing that sometimes it's all about the experience you have playing, even if you aren't doing any playing at all.
Beyond is just one of those games where you wouldn't mind sharing the experience with others.  I personally played it in front of members of my family, and they too took quite an interest into the story, a lot like the game I listed second.
If I could sum up this console generation with one marquee title, it would be The Last of Us. The Last of Us is a game that took its gameplay, its world, and its characters and put them all in the forefront of its design to make it one of the most engrossing experiences this generation.  Naughty Dog literally did it for years with the PS3's Uncharted trilogy, which was my favorite series this generation, and The Last of Us really put the developer over the top for me.
The Last of Us is a game that could spawn its own series, but I sure hope it doesn't. It's already a work of art.  As soon as I finished this game, I had already decided it was my Game of the Year.  The delay of Watch_Dogs insured that.
At least, I thought it did…
The Last of Us was pretty damn close, but it was sheer enjoyment I had with Super Mario 3D World that made me decide that this was the best game released this year.  With credit to almost every game in Mario's past including Super Mario Bros. 3, Super Mario Galaxy to even Mario Party and Mario Kart-themed level, the variety of things to do and how to do them in this game really make it one in a million.
The last time I had this much fun playing a video game was when I played Super Mario Bros. 3 on the NES, and that was the first game I ever played.  I even had the opportunity to share the experience with my loved ones not only by playing with them with Nintendo's friendly local multiplayer, but simply do the fact that the game probably is just as fun to watch as it is to play.
Even if you're not that big of a fan, if you just have the smallest liking for Mario in general, then there's a lot to love about this game.  It really brings people together to reminisce about how gaming used to be, all while giving newer generations of gamers the opportunity to experience a game that's both enjoyable and challenging.
—
So that's pretty much it.
It's a clichéd statement, but 2013 really was the best year this generation, and the gaming gods couldn't have picked a better year for it.  A lot of the hype went to Grand Theft Auto V, and while it's a fantastic game, to me it just wasn't as fun of an experience as the games I felt topped it.  A Link Between Worlds is the best game Zelda in years, Beyond: Two Souls probably had the strongest plot out of any game released this year, and The Last of Us left me with such an empty feeling that I scoured the net and interacted with a bunch of people who felt the same feeling I did.  But in the end, it's all about the fun for me, so it's easy to see why Mario was my Game of the Year.
I also have to give some honorable mentions to Phoenix Wright, Ace Attorney: Dual Destinies, LEGO City Undercover, and Fire Emblem: Awakening.  Again, any other year, I'd list these games… but it was just too good.
It wasn't just the sheer enjoyment of these great games that helped make the year so great, it's the fact that the experience playing them was a such joy to share with whomever watched me as I played in my living room.  With the exception of the 3DS titles I listed, simply because they're handheld games, every game on this list is just as enjoyable to watch as they are to play.  While we have this stigma and stereotype of being alone in our rooms plotting dangerous crimes, the great games released this year really showcase gaming as a legitimate entertainment medium.
Sure, games like Grand Theft Auto V and The Last of Us are two examples of sometimes gruesomely violent titles that aren't appropriate for all ages, but they're still rather enjoyable games to watch.  Both these games presented themselves as if they were full-scope Hollywood presentations, and if that's the way gaming is headed, then I think it's going to be a fun ride and I'll continue to look forward to what developers and publishers have in store for us with the new technology we already have available.
Now before I end things here, I just wanted to kindly extend my condolences and best wishes to the Davis family.
Rest in Peace, Ryan Davis.  We miss you.
Former GameSpot and Giant Bomb personality Ryan Davis passed away on July 3 of natural causes, shortly after his wedding.
You'll hear me and a whole lot of other people in the business say that this was the best year in gaming, but I can't imagine the amount of pain that Ryan's loved ones are facing, especially knowing that this is their first holiday season without him.
Now while I've never really got the fortune of interacting with him much, his contributions to both GameSpot and Giant Bomb as well as the entertainment journalism landscape, in my opinion, were among the most commendable.
On the Spot was the first interactive online web series I ever cared about, and both he and Rich Gallup were fun to watch.  This Ain't No Game (TANG) on Giant Bomb was also probably among the most hilarious nerd segments I've seen on the internet.
Thank you for entertaining us, Ryan.  We know you're resting in paradise. Maybe you have better video games up there.  Who knows?
I've been surfing internet forums since I was 13, and the GameSpot Forum Community was the first one I've ever been a part of, where I eventually became a moderator of the boards shortly after they launched GameSpot Complete.  It's where I networked and became good friends with Patrick Mifflin, our Associate Editor and a beast of a writer, especially when new consoles come out.  I was young enough to partake in gaming journalism just as it was figuring out its medium, and I can't help but feel lucky that I've gotten to read and enjoy material that guys like Ryan Davis, Jeff Gerstmann, and Greg Kasavin (now of Supergiant Games, of Bastion fame).
It's guys like them that are the reason why I keep at this hobby.  I can care less about the money I (don't) make from being an entertainment journalist.  It's the fact that I can help people and inform them about the best ways to entertain themselves.
Good writing results in good conversation, and there's nothing better than a good conversation.
Here's to an even better 2014, and I hope you're all ready for SmashPad's first overall Game of the Year.  But before that, my co-Managing Editor, Chris Selogy, has his Top 10 Games of 2013.