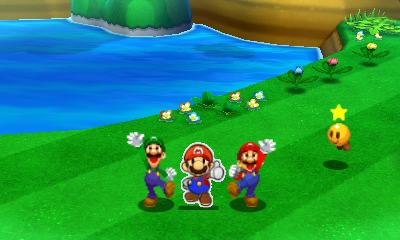 Nintendo is in quite the envious position when it comes to Mario games.  There's the flagship games like New Super Mario Bros. U, party games like Mario Party and Mario Kart, and then of course there's the two RPG brands they have in Mario & Luigi and Paper Mario.
With Mario & Luigi: Paper Jam, Nintendo gives us a look at what it would be like to combine the best of both worlds, and they did for the most part. Unfortunately, repetitive nuances bog down the experience.
What Is It?
Mario & Luigi: Paper Jam starts off with Luigi and Toad venturing off into the basement library of Princess Peach's castle to fix a hole on a wall.  When Toad gets Luigi to climb the shelves to take a look at the wall, he clumsily knocks over a mysterious-looking book.
It turns out the book Luigi found is the storybook containing the Paper Mario adventures, and each and every element in the paper Mushroom Kingdom ends up loose in the real Mushroom Kingdom.  That means everybody has a paper doppelganger—the Toads, Mario, Princess Peach, and the bad guys, including Bowser himself.
Of course, Bowser meets his paper self, and then they decide to kidnap both of the princesses and wreak havoc in the real Mushroom Kingdom.  With that, it's up to Mario and Luigi to stop them, with Paper Mario joining them for the ride.
Why Should I Care?
If you've played any of the previous Mario & Luigi or Paper Mario games, you should feel right at home here.  There's no doubt that the two series share similarities that have resulted in people being fans of both, so the result of Mario & Luigi: Paper Jam should be the best of both worlds, right?
While the game does set new highs with Mario RPG's, especially with its deep battle system, the questionable addition of Toad Hunts tarnish an otherwise pleasurable experience.
It happens early on.  After the contents of the storybook are poured into the world, hundreds of Paper Toads get scattered across the game's overworld. While the brothers try to figure things out, the terrified Paper Toads all try to hide within Peach's castle, whether it's by blending into the environment, covering handrails, or hiding inside of "?" boxes.
This ends up starting an unnecessary chain of repetitive fetch quests very reminiscent of the "tears of light" and "goddess tear" fetch quests found in The Legend of Zelda: Twilight Princess and Skyward Sword.
They come off useful at first, because the hunts allow players to really explore each world so they know the ins and outs of it.  More often than not, when you venture into a new area, you have some Toad-related fetch quest to get through.  There are also times in which you have to repeat these same hunts with faster times just so you can get more Paper Toads.
What are the paper Paper Toads for?  When you gather a whole bunch and send them to the castle, they'll build tools that'll help Mario and company progress in the game.  One such example is the papercraft builds, which will be gone over later.
The game tries to mix up these Paper Toad quests by giving you different tasks and minigames to accomplish.  One of the more interesting ones is a stealth game that requires you to save Paper Toads from areas being patrolled by Shy Guys, while another is a Tetris-like puzzler.  While these give the quests variety, they're a bit too far in between, and as I made progress in the game only to be interrupted by a Lakitu about to put me on some wild Toad chase, I often thought to myself "Not another damn Toad game!" This facet of the game really felt like a chore and took away from the experience.
Exploration in Paper Jam is also pretty bland.  The environments are all colorful and the various Paper Mario additions add some charm, but nothing is particularly memorable mainly because most of the characters, aside from your run of the mill Koopa Kids, are boring with virtually nothing to offer aside from your standard witty dialog.  The game really lacks strong supporting characters like Goombario or Geno from previous Mario-themed RPGs, and the game feels generic as a result.  Even the Beanbean characters from other characters were more interesting.
It's Paper Jam's two battle systems that'll provide most of the enjoyment.  For the most part, battles have remained the same.  The combat is still turn-based with action elements mainly tied to the characters' and their specified buttons.  Mario's actions are still done with the A button, while Luigi's actions are still performed with the B button.  The biggest change is the addition of Paper Mario.  Paper Mario's actions are assigned to the Y button, and when using him, the party has "Trio Abilities" as opposed to the standard "Bros. Abilities" attacks that do significantly more damage but also are tied to a timing-based minigame.
Also new to the game are battle and character cards which again come after you've gotten pretty deep in the game.  They basically just add buffers with all your characters and add an extra attack option, while the character cards allow for amiibo functionality.  So, if you scan a Mario-based amiibo in battle, it'll summon a character card that makes the fights immensely easier.  In a way, it's pretty cheap, but it's also not a bad way to integrate your amiibo collection if you have one.  Besides, these cards aren't a required element in battles, so if you want the challenge, just avoid using them.
The strategy with battles hasn't changed.  Aside from timing button presses to do more damage to enemies, it's really defense that takes precedence as much of your success will come from dodging and counterattacking enemies that can only be done successfully by carefully studying patterns and tendencies in enemy movement.  Bosses provide even greater difficulty as they have a more diverse moveset that even includes a stampede portion where Paper Mario can turn into an airplane and guide their brothers to safety, so there are hardly any dull moments.
This isn't the kind of game where you can play half awake, because if you're not paying attention, you'll definitely die.
Like Dream Team before it, Paper Jam also has a second battle system.  This time it's in the form of Papercraft battles made possible by the lame Toad Hunts you have to do.  Various areas in the game will have the bad guys go all Power Rangers on you, summoning giant versions of themselves to do their dirty work.  To combat this, the Paper Toads have constructed giant cardboard versions of the brothers. Cuteness aside, papercraft battles have you crashing, hammering, and launching your cardboard selves into enemies, and they're all pretty intense.  I just wish there were more of them.
What Makes It Worth My Time And Money?
Mario & Luigi: Paper Jam is about as entertaining as other Mario & Luigi games have proven to be, thanks to some hilarious dialog and an even better battle system that sets itself up to be the hardest game in the series, but it still feels like a disappointment.
The 30 hours or so it takes to complete the main story could easily have been shortened if the Toad Hunts weren't as essential as they were, and I can't help but feel like the Paper Mario addition was a missed opportunity.  It's true that this is essentially supposed to be a Mario & Luigi game with Paper Mario in it, but they could've done so much more with it.  At least give Peach more parts, because her scenes were the best.
Either way, if you're longing for an RPG on the 3DS to tide you over before the release of Fire Emblem Fates, Paper Jam wouldn't be a bad choice, but you might be better off waiting for this game to drop in price.  Paper Jam isn't a bad game, but it's hardly a series highlight.