After making some tough choices, you can check out my top games of 2015 within.

2015 was a surprisingly great year full of a diverse range of games with plenty of big and small titles that grabbed my attention and didn't let go until I filled out my personal game of the year list. Just trying to put together this year was a tough task because I had an initial list of about 20 games that could've made it if I had the free time to give each of them the time they deserved to make a proper judgment, but that's how things go every year. I do want to give a shout out to some of these games that just missed the mark because the Hyperbolic Time Chamber from Dragon Ball Z isn't a real thing just yet.
Bloodborne is a game I enjoyed for about 15 hours right when it came out and due to time constraints, I haven't been back since despite it constantly reappearing in the back of my mind to demand higher priority in my backlog. Grow Home was on the top 10 up until the end when a couple games demanded spots in the final weeks of the year, but it says a lot that I beat it on PC earlier this year and then did the same once again when it released on PS4. Nom Nom Galaxy was a great new game from the PixelJunk developers that is a cool modern tycoon  game in the guise of a 2D mining game where you build production and harvest lines for your makeshift soup factory. Hotline Miami 2: Wrong Number had some cool moments of variety that stood out compared to the original as they went all out with this follow-up story to the memorable coked-up nightmare that was the original game. These were a handful of the strongest runner-ups that unfortunately didn't make the list for various reasons, but I have no doubt that the games below were the right titles for this list.
So without further ado, let's get to my top 10 games of 2015:
I can't stand playing horror games because I'm a huge wuss when it comes to scary games, so it says a lot that one of them actually made my list this year. Until Dawn does a great job of adapting the Heavy Rain-style of adventure game to the teen horror movie with all of the teen melodrama, tense moments, and wide range of ways the game changes and reacts to your choices that sets new standards for the Choose Your Adventure genre.
Ori pulls you in with a sappy opening like this is some sort of Pixar movie before putting you into a gorgeously-designed world with a cool mash-up of Super Metroid and a tough-as-nails puzzle platformer that made it the most interesting game I played on Xbox One this year.
8. Fallout 4 – PS4, Xbox One, PC
After years of playing Bethesda's brand of clunky but quirky first-person, open-world RPGs and bumping my head into the limitations of their engine and mechanics, they finally made a game that specifically rewards my stupid hoarding ass with Fallout 4. Now I can make stupid inventory decisions because microscopes and duct tape are more important to me than guns and machetes because they are useful to upgrading my guns and armor.
7. N++ – PS4
Metanet managed to outdo themselves big time after the extremely impressive N+ on Xbox 360 by making a sequel with over 2,000 levels, incredibly polished mechanics and level design, and enough hidden secrets that this game might as well be endless in content because it might be too daunting for me to actually see everything it has to offer.
At first, Axiom Verge looks like another Metroid clone that mirrors what we've seen from those games and their many clones since then, but it's how the game subverts your expectations that really shows how cool and inventive it is with its weapon and tool design to offer very unique ways of approaching puzzles and fights. That all of this comes from a one-person developer makes it all the more impressive that such a game was actually made.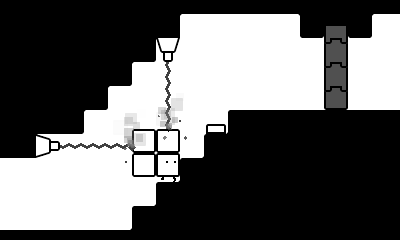 5. Box Boy – 3DS
Box Boy is one of those rare puzzle games that presents you with a fairly simple puzzle mechanic that seems limited before its fantastic level design starts teaching you completely new ways of using it to solve puzzles you would not have dreamed were possible when you started. It's rare that I beat a game, then play the bonus levels that appear post-credits along with the time attack and score attack levels available in the shop before I finally stop just short of replaying all of the levels in the game once more because they grade your performance to let me have just a little bit more to do when I think I've done all there is to do.
4. Destiny: The Taken King – PS4, PS3, Xbox One, Xbox 360
This choice should be a huge surprise if you take into consideration that I originally spent way too much on this game at launch last year despite barely playing it more than a few hours to even reach the limits of the content it offered then. With the 2.0 update and The Taken King, Destiny was finally overhauled and turned into a much better version of what I originally envisioned it to be as I maxed out my Warlock, beat Oryx, play a bunch of its great multiplayer, and spend more time with it every week than I reasonably should considering all of the other games on my shelf that I could be playing.
3. Metal Gear Solid V: The Phantom Pain – PS4, PS3, Xbox One, Xbox 360, PC
Despite being the end of an era as Hideo Kojima and his studio were unceremoniously shut down at the end of its development, The Phantom Pain managed to breath new life into the Metal Gear series that it sorely needed that makes this a great swan song for this nearly thirty year old series. It's easy to see who made this game while flying to missions as my helicopter plays Take On Me with my dog at my side, who wears battle armor and carries a knife for cutting throats.
2. Life is Strange – PS4, PS3, Xbox One, Xbox 360, PC
I had gotten a bit tired of the Telltale formula of episodic adventure gaming and was surprised to see a challenger like Dontnod knock it out of the park with Life is Strange. Following Max's story to its dark, sad end gave me the sort of emotional highs and lows that I hadn't felt from this kind of game since the first season of The Walking Dead knocked my doors off only three years ago.
Psyonix has done an amazing thing with Rocket League to create this generation's best sports game that everybody can enjoy no matter their skill level and it all began because of it being a PlayStation Plus game at launch back in July to help this awesome virus spread quickly. I've spent many hours with the game over the past six months playing online due to how much fun it is and the great post-launch support the developers have offered to keep the game fresh and exciting in ways that most multiplayer games lack.
———————————–
To cap this off, I do have an informal award to give out this year with my Gaming Dog of the Year. The winner is Diamond Dog of Metal Gear Solid V: The Phantom Pain. Just look at that screenshot above to see why he won. With that, thanks for checking this list out and keep an eye out for our overall Top 10 of 2015 tomorrow with videos for each game to go with the list itself.
Top Picks From Other Editors
We'll have our overall Game of the Year picks tomorrow.